Growing up collecting baseball cards is nothing new for most 80s babies. The evolution of a child was titty or pacifier then somewhere after a few years of this pre-school bullshit we got into trading sport cards. As a little pup you look up to athletes. You want to be them and the closest thing we had was owning a piece of them on paper. Baseball cards not only defined my youth but it got me into my first love — baseball. To this day I haven't left it, despite the numerous heartaches it has caused me throughout the years.
I was very impressionable in my early years, especially around 10 years old. That is when every kid has posters on his walls of famous athletes or musicians . They aspire to rock the dopest kicks (then Jordans) and make sure when their tapes popped it was the latest jam (then Public Enemy).
I remember one day reading (really looking) a Sports Illustrated issue that featured then hot prospect Gregg Jefferies. I should have known it was going to be duped because who really spells Gregg with 2 g's anyways? Insides the S.I., he was pictured swinging bats in a pool. From that moment on, I always took swings in a pool. This guy was suppose to be the new __________. A sure thing. The savior of the New York Mets and really baseball.  This actually might have been the issue I'm referring too.

So what happened to Gregg Jefferies? To his defense, I will say he did log 14 years of service, with a little over 1400 games played. But did he really save New York baseball? Keep in mind, this is years after the Mets World Series. The Yanks weren't all that great besides Donnie Baseball. The sport didn't have a young can't-miss prospect like we have now. Jefferies was literally a superstar at age 19 before his took his first major league swing. He had a respectable career but really his best years came 6-7 years after his debut while playing  in St. Louis. He was an all-star those years, his only all-star appearances mind you. He later went on to play for a few more teams like Philly, Detroit and Anaheim. He never lived up to his potential. He certainly wasn't the next Pete Rose. He was more like Bernie Madoff because of all of the money he took from poor naive children like myself. We believed in him, the future and the ROI. We're left with nothing but a fucking pile of paper cards worth dick. Thanks pal.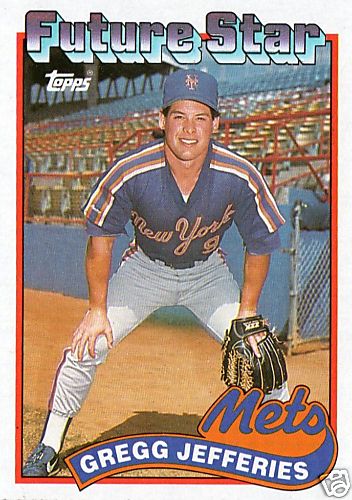 Next up: Ben McDonald